Jawatan Kosong CUSTOMER SERVICE PUSHTO SPEAKING di [SYARIKAT]
KETERANGAN JAWATAN KOSONG

Description

RESPONSIBILITIES:
• Open and maintain Pushto customer accounts by recording account information
• Resolve product or service problems by clarifying the customer's complaint; determining the cause of the problem; selecting and explaining the best solution to solve the problem; expediting correction or adjustment; following up to ensure resolution
• Recommend potential products or services to management by collecting customer information and analysing customer needs
• Prepare product or service reports by collecting and analysing customer information
• Contribute to team effort by accomplishing related results as needed
• Manage incoming calls for Pushto customers
• Identify and assess customers' needs to achieve satisfaction
• Build sustainable relationships of trust through open and interactive communication
• Provide accurate, valid, and complete information by using the right methods/tools
• Handle complaints, provide appropriate solutions and alternatives within the time limits, and follow up to ensure resolution
• Keep records of customer interactions, process customer accounts, and file documents
• Follow communication procedures, guidelines, and policies
• Go the extra mile to engage customers
• Resolve customer complaints via phone, email, mail, or social media
• Use telephones to reach out to customers and verify account information
• Greet customers warmly and ascertain problem or reason for calling
• Take payment information and other pertinent information such as addresses and phone numbers
• Answer questions about warranties or terms of sale
• Handle product recalls
• Attempt to persuade customer to reconsider cancellation
• Inform customer of deals and promotions
• Utilize computer technology to handle high call volumes
• Work with customer service manager to ensure proper customer service is being delivered
• Close out or open call records
• Compile reports on overall customer satisfaction

CUSTOMER SERVICE REPRESENTATIVE REQUIREMENTS:
• Proven customer support experience
• Track record of over-achieving quota
• Strong phone contact handling skills and active listening
• Familiar with CRM systems and practices
• Customer orientation and ability to adapt/respond to different types of characters
• Excellent communication and presentation skills
• Ability to multitask, prioritize and manage time effectively
• Diploma or equivalent; college degree preferred

CUSTOMER SERVICE REPRESENTATIVE SKILLS & PROFICIENCIES:
• Customer Service Skills
• Product Knowledge
• Quality Focus
• Market Knowledge
• Documentation Skills
• Listening Skills
• Phone Skills
• Resolving Conflict
• Multitask
• Patience
• Negotiation
• Positive Attitude
• Attention to Detail
• People Oriented
• Analysis
• Problem Solving
• Organizational Skills
• Adaptability
• Ability to Work Under Pressure
• Computer Skills
• Strong commercial acumen, analytical and problem-solving skills for all clients based in Afghanistan.
• Possess strong analytical, communication and inter-personal skills and able to work under time pressure with all debtors in every capacity possible.
• Excellent communication and stakeholder management skills in order to build relationship across all levels.
• Results Oriented and have strong negotiation skills.
• Language skill: Must have proficiency in Pushto languages.


Company

Kami menawarkan berbagai produk yang komprehensif berkualiti tinggi yang dikemas produk dalam berbagai jenis dan ukuran. Produk kami melalui penjualan internasional melalui distribusi jaringan kami. Syarikat kami memiliki kontrak pemasaran di Afghanistan dan Pakistan.
Divisi R&D kami, terus-menerus peneliti dan pengembangkan inisiatif, serta melihat ke dalam mengembangkan inovatif, dalam meningkatkan tekstur, penampilan, secara keseluruhan indra dan estetika aspek produk akhir. Kami juga merespons melalui usaha kami untuk teguh dalam mengembangkan lemak trans-free dan non-hydrogenated untuk memenuhi permintaan saat ini iaitu rezim gizi yang sehat dan aplikasi tertentu.
Kemasan fasilitas kami di Sarafiah Natural Resouces Sdn Bhd merangkul prefektif-prefektif manufaktur yang baik dan mempertahankan hak kesesuaian dan standar kebersihan.


–
Maklumat Tambahan Jawatan Kosong
Tahap Pekerjaan : Not Specified
Kelayakan : Healthcare, Practitioner/Medical Asst
Pengalaman Kerja :
Jenis Kerja : Full-Time
Pengkhususan Kerja : Healthcare, Practitioner/Medical Asst / 513, 111
Maklumat Syarikat Majikan, [SYARIKAT]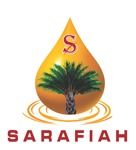 Sarafiah Natural Resources SDN BHD is one of the leading suppliers of containerized palm-based edible oil from the world's major palm oil country, Malaysia. We are based and operated from Port Klang, we are able to improve our responsiveness to our customers. Quality, Service, Innovation & Cost leadership is our motto of operation.
Sarafiah Natural Resouces filling plants have a combined capacity in excess of 45,000 MT per month handling various consumer and industrial sizes that cater to more than 20 countries worldwide. In addition.
Our product includes a whole range of Palm oil and Palm Olein , Shortening with rich from Vitamins and cholesterol free.
Sarafiah Natural Resources SDN BHD strives for continual innovations and non compromising quality to ensure all our customers the most affordable cost and product value.
Sarafiah Natural Resources is one of best supplier in Palm oil and Palm olein with targeting the best possible price and quality. Our relationship with the customers has been going very well and as well as the satisfaction level of dealing and serving customers. We believe the prices we provide are very competitive in market forces and the best quality oil being provided as you can check in the product list of the website. We do our best to give the best attention to our customers and encourage their comments regarding our products, we believe that we respond and put our best to work in accordance with our customer's willingness and comments.
Sarafiah Natural Resources also pack the products for Private label as customer choice design labels, for our all products listed. The presence of quality improvement and product value makes us one of the proud and successful oil supplier in Malaysia .
Maklumat Tambahan Syarikat [SYARIKAT]
Saiz Syarikat : 51 – 200 Employees
Masa Pemprosesan Permohonan :
Industri : Manufacturing / Production
Elaun dan Lain-lain : Parking, Business (e.g. Shirts), Monday to Saturday, 9:00 A.M until 5:30 P.M
Lokasi : Selangor