Jawatan Kosong Counsellor di [SYARIKAT]
KETERANGAN JAWATAN KOSONG
JOB PURPOSE
To provide counselling services whether individual or groups to students from EY to Year 11, to give talks and run workshops, and to assist in all work of the counselling department. Reports to the Senior Counsellor. 
KEY RESULT AREAS / RESPONSIBILITIES
●   Respond to drop-in and referrals as assigned, and do preliminary assessments.
●   Develop therapeutic alliance and appropriate intervention plans based on students' psychological / emotional needs and situation.
●   Conduct individual and group counselling to help students understand problems, define goals and develop realistic action plans.
●   Planning and implementing therapy as well as evaluating outcomes.
●   Maintaining proper and securing the confidentiality of all reports of counselling sessions and events.
●   Make referrals to external service providers based on necessity of the case management.
●   Confer with teachers, principals, other counsellors and guardians, when necessary, in resolving a crisis or problem while adhering to ethical code of conduct of counselling.
●   Helping students and the school management in crisis situations and managing transitions for newcomers and school leavers. 
●   Conduct workshops to educate students, teachers and parents on mental health and related issues.
●   Work with and guide family members to understanding student's needs, to support student's development and learning. 
●   Promoting of counselling awareness in school to students and staff through talks and workshops.
●   Maintaining professionalism and understanding of counselling ethics of Lembaga Kaunselor Malaysia and / or other professional counselling bodies.
●   Maintain and demonstrate awareness of current developments in counselling skills knowledge by reading professional literature, attending courses and seminars; particularly in the fields of youth and children counselling.
●   Provide counselling services to Taylor's International School branch campuses and other sister institutions within the Taylor's Education Group, as and when required.
JOB REQUIREMENTS
●   Master / Degree in Counselling / Psychology or other related discipline with specialization in counselling.
●   Registered with the Board of Counsellor Malaysia (Lembaga Kaunselor Malaysia) and possess a valid practising license.
●   Some working experience either as a counsellor or in a related field. 
●   Have some training in play therapy and is able to work with children.
●   Receive and participate in clinical supervision for personal professional development.
COMPETENCIES (KNOWLEDGE, SKILLS & ABILITIES)
●   Proficient in English and prominent Malaysian languages.
●   Familiar with Microsoft and Google Applications.
Maklumat Tambahan Jawatan Kosong
Tahap Pekerjaan : Senior Executive
Kelayakan : Education/Training, Education
Pengalaman Kerja : 2 years
Jenis Kerja : Full-Time
Pengkhususan Kerja : Education/Training, Education / 507, 105
Maklumat Syarikat Majikan, [SYARIKAT]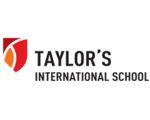 The latest addition to the Taylor's Education Group, TAYLOR'S INTERNATIONAL SCHOOL offers a global learning experience based on the highly valued British Curriculum and focus on character building grounded in the Best of Eastern and Western Values.The School has two campuses located in Kuala Lumpur and Puchong. Catering for students from Early Years till Year 11 (age 4 to 16), the School also offers a strong tri-lingual language foundation through a balanced and holistic learning experience.
Maklumat Tambahan Syarikat [SYARIKAT]
Saiz Syarikat : 201 – 500 Employees
Masa Pemprosesan Permohonan : 21 days
Industri : Education
Elaun dan Lain-lain : Dental, Education support, Medical, Regular hours, Mondays – Fridays, Business (e.g. Shirts)
Lokasi : Puchong